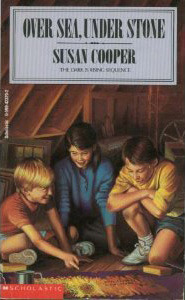 This is another author who I found when I was a young lad in middle school, much like the last one, Mr Jacques. I found Susan Cooper when I was trying to again find things to read, but unlike Jacques where I found him during a book fair, I found Ms Cooper in my schools library.
We had a book, a simple one titled "Over Sea, Under Stone." It promised adventure, mystery, and an interesting connection to King Arthur. The cover I have here is the one from the edition I read. I still remember it.
Here, for those curious, is the book blurb:
"On month summer holiday in Cornwall with their Great Uncle Merriman Lyon (family friend Gumerry) and his lean hound Rufus, the three Drew children discover a 900 year old copied manuscript and map in the attic. But Merry can only translate the early English dialect of King Arthur and King Mark, and guard the trio – finding the treasure before the evil Dark powers is their quest.
Simon, 11 months older than Jane, both protective of youngest "white-haired" pale blonde "Barney" Barnabus, must find the golden grail hidden "over sea, under stone", using standing stones, tides and shadows that existed centuries before. Villains chase them on land and sea: their jolly hymn-singing housekeeper Mrs Palk, her nephew insolent bully Billy, vicar Smith's replacement big uni-browed hypnotic Hastings, friendly inquisitive yachter Mr Withers and his not-sister Polly, who is not so young and pretty when angered "
Now, that sounds epic right? And when you are in sixth grade looking for exactly that, well, how can you resist.
Picking this up started my journey down the path of The Dark is Rising. Whats interesting is while I enjoyed Over Sea Under Stone, its not my favorite in the series. My favorites are the books that deal with Will Stanton, not the Drew kids. Specifically, The Dark is Rising (Book 2) and The Grey King (Book 4). I fully intend in fact to reread the entire series at some point and review them.
There is a definite sense of childlike wonder and imagination in these books. And they have stuck with me all these years. I have reread The Dark is Rising, specifically, around 5 or 6 times now. And it never gets old. Wills journey to discover who he is and what is happening to him is amazingly well written. As are all the books.
Susan Cooper helped shape my love of fantasy and fiction. And I would not have it any other way.